As published in the Port Stephen's Examiner 

Construction has commenced on the $5 million Aldi supermarket store located opposite the Salamander Bay Square shopping complex.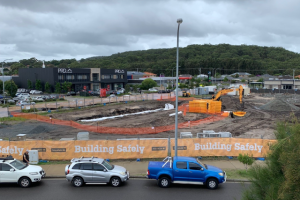 A spokesperson for the supermarket giant told the Examiner this week that all current employees at Aldi will be offered positions at the new store when it opens later this year.
The development, including carparking and signage, was approved by Port Stephens Council in June 2017 [at a then estimated cost of $4.8mil] when the land was owned by the council.
However, according to a council spokesperson the site has since been subdivided and six minor modifications have subsequently been approved over the subject site "in accordance with the approved plans and conditions".
Other recent developments to have opened in recent months include the PRD Port Stephens real estate office and Anytime Fitness centre.
The Aldi spokesperson said that the new supermarket was an Aldi-owned site and that the building comprised a stand-alone Aldi store.
"All employees at the current Salamander Bay store will be offered positions at the new store located at 3 Central Avenue, Salamander Bay," the spokesperson said.
"Aldi is excited to offer Port Stephens residents an even better shopping experience when we open our new store which we anticipate to be in early October 2022.